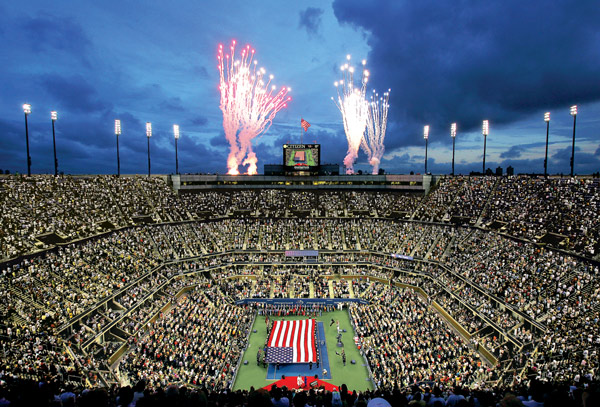 Arthur Ashe Stadium
This years US Open may just be the most exciting slam of the year, perhaps for several years, both on the mens and womens side
On the mens it is because there are arguably more genuine contenders for the title than we've seen for years including: Murray, Djokovic, Nadal, Del Potro and Federer. All have won it before and all have a reason they could triumph. Then you have the outside interest of Ferrer who made his first slam final. Could he do it again. Unlikely but it's adding to the intrigue.
Finally the mens doubles has the number 1 Bryan twins going for a calendar year slam. That hasn't been done in the open era and would be a monumental achievement. So there will be plenty to watch and speculate on. 
What can we expect?
The most exciting tournaments for me are those I can't predict the outcome of. The French with a fit Nadal is unfortunately too predictable. Though Djokovic made it very interesting this year by pushing Nadal to the end of the fifth set in their semi final. 
Wimbledon of course was the opposite with so many top seeds falling early. A newcomer in Jerzy Janowicz made it to a semi final and Juan Martin Del Potro pushed Djokovic all the way in the other semi. It was exciting to see different names going deep and, hopefully it bodes well for the US Open. There was also a lot of success for those with single handed back hands and those playing serve and volley tennis. Is this a sign of a new trend. It is far too early to tell. I do feel 
serve and volley
is a big opportunity we should see coming through. Simply because the game has become essentially so conservative. Those who win the majors generally grind it out. The game is always moving on and the path of least resistance seems in my eyes to be to take more calculated risks by coming in and saving your energy. We saw the advantage of it at Wimbledon as we have in the past. It seems a natural development given that the players ability to recover has improved so much while their propensity for risk has waned. They always stay back and trade. That is how John McEnroe started and he became one of the best at coming forward. 
I can not say it is definitely a new trend. I do feel that many of the big servers would be more comfortable and get better results by coming in more. Take more risks. They don't move or rally well enough to justify staying back. I think Janowicz particularly showed this.
Back to reality. Lets look at the potential contenders and how they might fair.
Andy Murray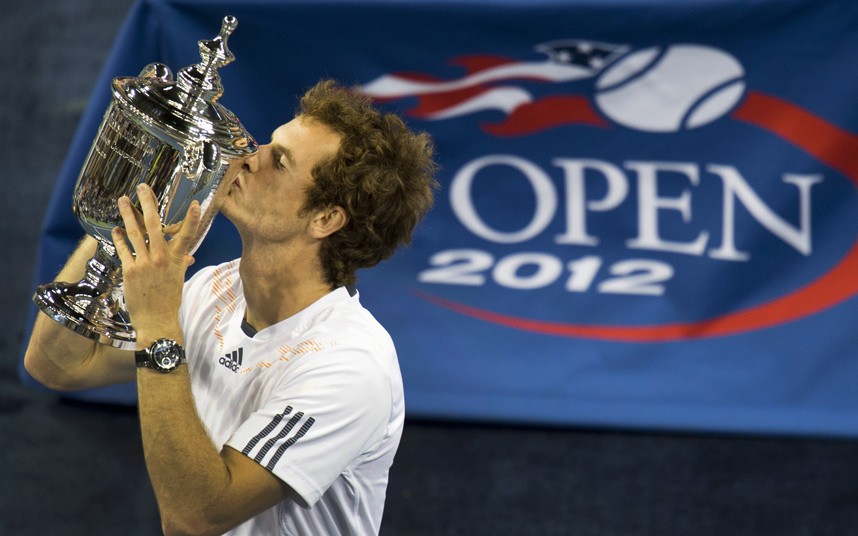 Andy Murrays potential is obvious but unlike Djokovic he has not had any recent experience of dominating Nadal. In fact it has been noticeable to me that Murrays rise has come in Nadal absence. He hasn't yet taken his new game to Nadal in a major and particularly on a hard court. That's exciting. So the question is how will they match up this time? We will have to wait and see.
It is obvious though that Murrays success has come from improvements in his game. He is a better player than he was when he last faced Nadal in a major and of course his confidence could not be better. He has won three majors out of the last four he has competed in if you include the Olympics. In terms of the
shot cycle
Murray has improved his recovery to improve the effectiveness of his risks. he has always read the game well and taken risks. But, like Nadal he positioned himself so far behind the baseline that his risks lost their edge. With Ivan Lendl around he has come forward and fights to stay there. The result has been slam titles. Obviously there is more to it but the essence is that he has improved his patience and spends less effort trying risky shots. He is more clinical, only taking calculated risks that he can recover from. This makes him a main contender for the title but there is a lot of tennis to play before it is won.
Novak Djokovic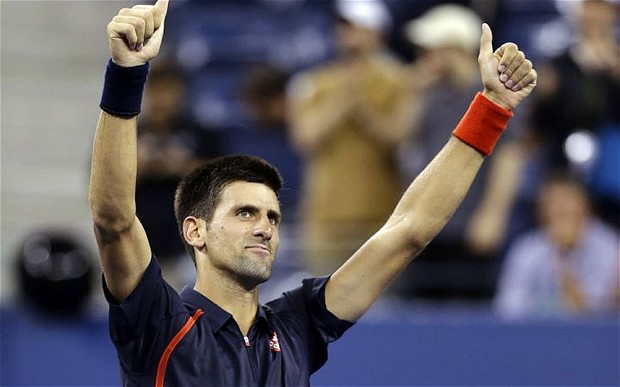 Novak Djokovic is still the most consistent player on all surfaces and a hard court is still his most dominant surface. He is also the one with recent winning records against all top players, particularly in majors except Andy Murray. Of course he did win the Australian Open so he has a slam final victory on a hard court this year. He is number one and he has earnt it and he will be hungrier than ever. Not much seems to have changed in his game so I just expect him to go very deep and see what comes out. There are so many permutations that we will just have to enjoy the journey.
Rafael Nadal
Rafael Nadal has been a sensation this year. Depending on who you listen to it is hard to confirm whether Nadal is playing better than he used to or simply managing his injuries better. His results coming into the open are fantastic and he knows how to win this event. Yet the US Open hard courts are a different challenge to the softer clay of Roland Garros. 
Nadal has only won here once when he served better than he ever had before or since and I have heard no reports that his serve is what it was in his winning year of 2010. That does not bode well. On the upside he is in the bottom half of the draw with the potential to face Federer in the quarters then Ferrer in the semis. At least according to form that does not sound as hard as the other half so, in theory, he could make it to the final with enough energy left. Of course it is unlikely to be that easy. But he does know how to get to the final and we know he will give everything.
Roger Federer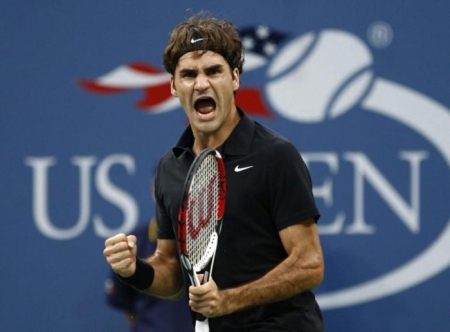 Roger Federer is surprisingly seeded seventh and in the bottom half of the draw in Nadals quarter. We are not used to that are we. Of course Roger is still dangerous just like Nadal. Champions of their calibre are always capable if things go their way. However the mens tour is particularly competitive and the statistics don't lie. He has not been getting the results throughout the year and still seems to be struggling with a back problem that hampers his serve. I wouldn't say he has fallen from the top, merely become stagnant and been surpassed. His amazing success made it risky to keep his game moving on because he had much more to lose than he had to gain. Finally he is in a position were he has been forced to move his game on.
He is trying a larger racquet to give him more power. Unfortunately I don't expect that to work straight away. The mens tour is very unforgiving and Rogers game is based on accuracy. He has to find the answer to 7 very tough questions. That is a very tough call even for Fed. A new stick may make him dangerous but it's unlikely he has mastered it yet. He may find it a challenge to go deep and if he does I expect him to find it hard to win the later matches. Obviously he is still a potential winner. The odds just seem stacked against him this year. Next year I'm expecting something. Not this.
Juan Martin Del Potro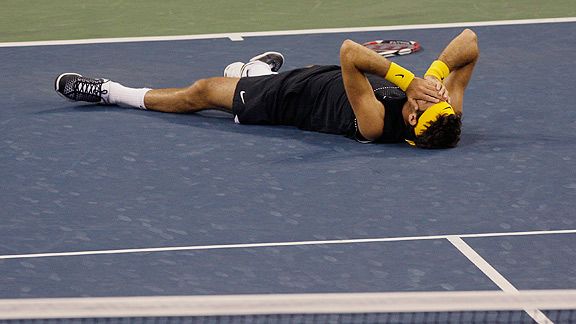 Del potro is a fascinating wild card for me. His showing in the Wimbledon Semi final surely hints at him returning to major winning form. With him being a former champion with a perfect game for the surface I am expecting big things of him. Of course he has to get through Djoko and Muzz but if anyone can it is him. If he faces Fed in the final then he will have memories of their US open final to inspire him. If it is Rafa then they are polar opposites in their games and we will see which style prevails.
David Ferrer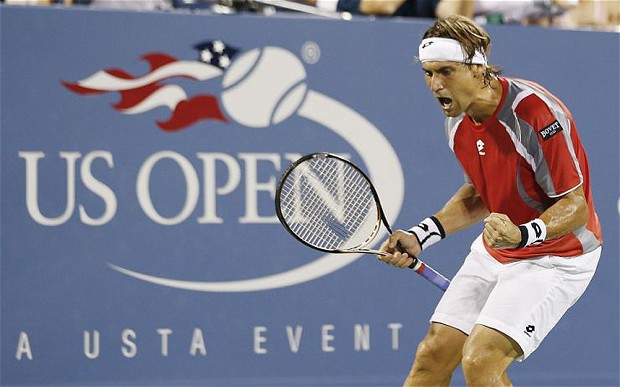 Of course David Ferrer made his first slam final at Roland Garros. Surely that has given him confidence and bodes well for the future. Unfortunately I don't feel his game has improved far enough for him to challenge the top guys all the way. He doesn't have enough to last. But of course his draw could land him in the final without having played the younger guys. If he gets that far he may be fresh and they may be tired. Who knows what could happen.
Younger top half VS Older bottom
What strikes me in this analysis is that the top half of the draw seems to be where the in form younger players are (Djokovic, Murray and Del Potro) and the bottom half is where the older challengers are (Nadal, Federer and Ferrer). That is interesting. It almost seems like it was set up this way on purpose. To set up a final with the new champions vs the old guard. A made for TV epic. 
This is very significant because the winner of the top half will likely have a very physically tough quarter and semi (given recent form) compared to those in the bottom half. That could have a major impact on the final result and potentially evens up the chances for all competitors. Of course nothing can be predicted from this. We just have to see how it plays out. 
Doubles
And finally, the Mens doubles. I've tried to watch as much slam doubles as possible this year. It is easy to see singles on TV but hard to see doubles. Now I am watching more I am starting to appreciate it. The Bryans make it really exciting to watch and it is quite something to watch them make history. It is another exciting story we will see unfold this tournament.