So I have shared my thoughts on the Mens 2013 US Open. Let us look now at the womens. Generally the hardest to predict and this year there really is a lot to consider. Along with Serena Williams, Azarenka and Sharapova we have newcomers like Sloane Stephens and Laura Robson rising fast and fearing nobody, and previous slam winners like Li Na trying new aggressive tactics.
I think the
brevity of womens matches is an undervalued asset
 making the womens game harder to dominate and upsets much easier. While it has become customary to consider it as Serena vs the rest of the world. Serena should win it barring injury. The women have not dominated like the men have. The share of the slam crowns has been much more democratic in the womens game than the mens. I lay that squarely with the womens more middle distance, some times sprint nature of 3 sets compared to the mens marathon of 5. For me it makes the mens far too predictable and the womens very unpredictable. Wimbledon 2013 Womens finalists anyone?
Alongside that, as a working father, I find it hard to keep up with the mens game at the slams. The matches are just too long. The womens game is fine and so I watch it throughout. I only watch the mens game in the final stages. I just do not have the time. Even then I rarely watch the full match. Even though I find the quality of the mens game higher the sheer quantity I have to watch is too much and there are few upsets. The womens game encourages upsets so while the quality is lower the excitement is higher in general. It is reasons like this that some are considering whether mens 5 set matches should be reduced?. I just don't think the women realise how good their product is. The quality is not up with the mens but the drama certainly is.
What can we expect?
In terms of Serenas dominance that just is not the case anymore. There seem to be more genuine contenders, if not to win, then to go very deep and cause upsets along the way and open up the field including challenging Serena. So let us look at some of the prospects. 
Serena Williams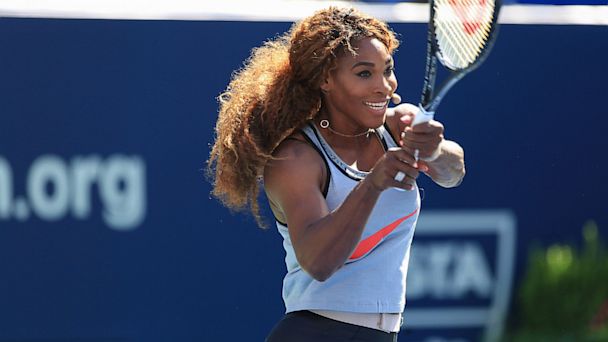 For the women Serena does not look invincible any more. She has lost to Azarenka twice on hard courts this year and almost lost to her in the final last year and of course she lost to Stosur the year before so it is hardly a given that Serena will win it. Of course the womens has always been wide open but rarely has Serena had so much to prove. However given the Wimbledon results everyone also has so much to prove as well.
Normally Serena goes into a slam with a dominant record against all comers. This year though she has lost more than she is used to. Particularly deep in slams. To Sloane Stephens in the quarters of Australia and Sabine Lisicki in the fourth round of Wimbledon. Then twice to Victoria Azarenka. So there are quite a few players who will feel they have a chance against her. A further twist is that she has never won this title twice in a row. Of course that stat could easily change but it could reflect the challenges of a player who is dominant on all surfaces. She does not get a rest all year and must be tired in the final stretch compared to other players who specialise. So there are a number of reasons that Serena may not be the most likely to win this time.
She will potentially meet Sloane Stephens in the quarters again here and of course Serena won't be getting all the home support against a fellow American player. That is a fascinating potential match. Before that it is possible Serena could meet Yaroslava Shvedova who pushed her to three sets in last years Wimbledon. Yaroslava hasn't had the same form this year and has recently pulled out of matches indicating injury or other problems but she is a very exciting prospect who showed she isn't afraid of Serena and has the game to push her. 
That said Serena is the best battler on tour. Her quarterfinal at the Australian Open against Sloane Stepehens showed me how hard she is to beat. She got injured during the match and could not move well but Sloane still had to use everything she had to get past Serena. I do not see many female players able to narrow the court so well and put up an impenetrable wall. So, while Serena has the best weapons on tour in her serve and forehand I still feel it is how well she uses this defence that will determine her fortunes. I expect her to be pushed more than we have seen for years so how she adapts to the situation is what matters.
Victoria Azarenka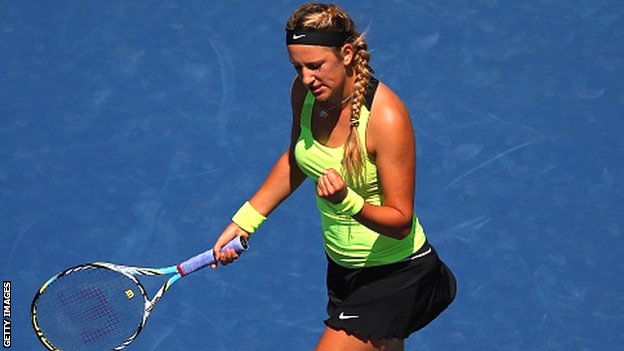 Victoria Azarenka (Vika) is surely the WTA version of Novak Djokovic. She is supremely consistent, hits hard all the time and is in the form of her life. She no longer fears anyone in a final. Bring on Serena, bring on any one. She showed me in the Australian Open her professional attitude. How she beat Sloane Stephens was not pretty. It was not worthy of the world number one but she also showed Sloanes lack of experience. 
In the final Vika faced not one but two injury time outs. How about that for disrupting your rhythm. Vika just got on with it. Where Sloane sat down, Victoria kept her feet moving. Practised a few shots and kept her mind active. She is prone to choking but she handled it and you can not ask for more.
So, on hard courts and where she served for the US Open title last year I expect her to do well this year. If she makes the final and is fit then it is hard to bet against her. 
Maria Sharapova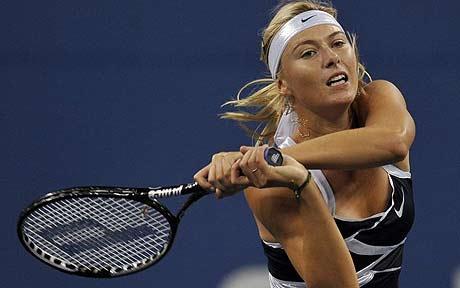 Maria Sharapova is in that place where Andy Murray used to be. She can dominate all below her except the number one. She just can not beat Serena. Of course you can point out that all streaks come to an end. Mashas game is perfect for hard courts and she has won here before so in theory she could beat Serena here. Especially if Serena has her usual lull in the second set. Of course if Serena does not make the final then Maria fears no one else. She will be ready and it could go either way.
Agnieska Radwanska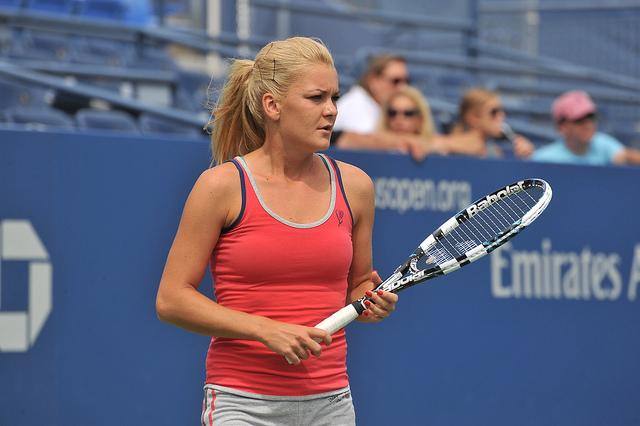 Agnieska Radwanska has an amazing game but without adding power I think she has reached her limit. She is an amazing counter puncher able to use an opponents weapons against them but she lacks the ability to dictate. 7 matches in a world class field is too much for her game. She will always have at least one poor game during the tournament. Who doesn't but there will always be someone ready to hit her off the court or just not miss anything and leave nothing for her. Agga will most likely fall to that player. I hope I am wrong because she is a breath of fresh air but, atleast for now I do not see that she has enough answers on the biggest stages against the top players.
Li Na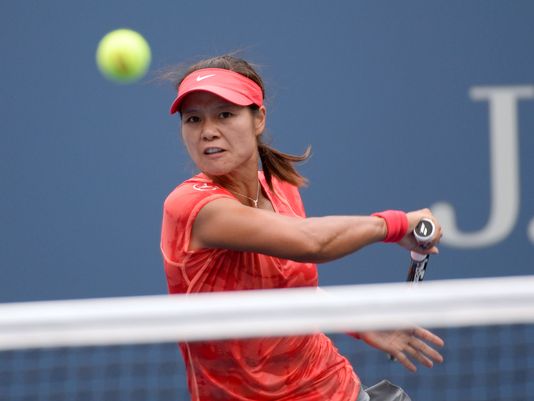 Last night I watched Li Na in her first round encounter against Sofia Arvidsson. What a difference Carlos Rodriguez has made. Li Na was using serve and volley and I could not believe my eyes. It worked very well against her lower ranked opponent. I certainly agree with the tactic but only time will tell if it is ready for the big time yet. Li is a slam champion and always a contender. I include her here simply because she is trying something different with a legendary coach. She is already potent from the back. This surprise factor at the net could pose serious questions for her opponents if she makes it deep in the draw. Probably too early for the new tactic to be reliable but very exciting for the future if she sticks with it.
Sloane Stevens
I find Sloane Stephens very exciting. She is a precocious rising star that plays well on a big stage. She is deceptively powerful. but uses her opponents strengths against them ala Radwanska. She is a threat not only due to her ranking but her Semi final appearance at the Australian Open this year. She was taught a lesson by Victoria Azarenka that I do not think she will forget quickly.
I find she reads the game very well and has a good balance between risk and recovery. She can dictate when she needs but has fantastic defence and deceptively great footwork. I am certainly hoping she goes deep this year. Especially on her home 'turf'. I don't expect her to win the tournament but she could make the final if lots of things go her way. Particularly her scheduled encounter with Serena. She could certainly cause an upset.
Laura Robson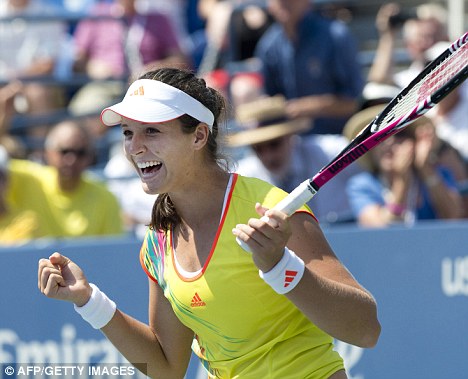 Of course being a Brit I have been following Laura Robsons results for a while. But then since she won an Olympic silver medal and went deep in the US open last year who has not. We learnt that she rises to the occasion just like Sloane. While she has less variety in terms of her shots she does have a strong mind and the ability to boss the point and match. Like Sloane she has been coming to terms with her success but she seems to have a good off court approach to help her work through this part of the journey.
Her US Open run last year where she beat former number one and US Open champ Kim Clisters, then Li Na and pushed Former Champion Sam Stosur. So I am obviously excited for a repeat this year. To make it even sweeter Lauras next opponent in the third round is Li Na. Both are coming from straight set wins both have power games and enjoy hard courts. What an exciting match we have in prospect.