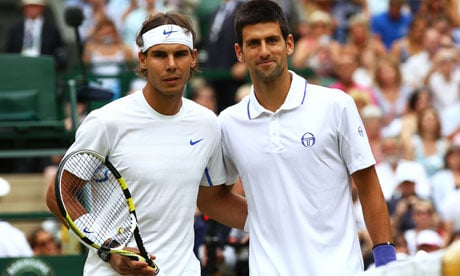 Novak and Rafa Wimbledon final 2011
I love competing. Mainly it's not about beating someone else. It's about testing myself. Seeing what I can achieve. So I thought I'd write about it and hopefully find other people who like pushing themselves like I do.
So I have many passions. Most I just do. The passion I'm most competitive with is Tennis. I've loved it ever since I started playing in my teens and I've been pushing my boundaries ever since. Right now I'm focusing on my edge. What's my strength compared to my opponents. What should I be working on so that I win more points on average than I lose.
I'm starting to see it as my profit margin. The margin which describes how close a match is and how likely I am to win.
I'm seeing this play out watching the mens game particularly. Federer used to dominate so effectively he had a clear margin against any opponent on all surfaces except against Nadal on clay. His edge was his variety of shots and knowledge of the game. So in general he would win say 55-60% of all points at least. Thus most encounters would go his way. He'd have to make a lot of howlers to even come close to losing. Even then he'd just have to stop those errors to be assured of winning.
Federer no longer has this profit margin against the top two atleast. Nadal and Djokovic now have a profit margin against him. On average they now win more points than Fed does. I feel it's because Fed hasn't really improved much since his hey day. He's added a drop shot to his arsenal but little else. Yet Nadal and Djokovic have both reached a new level. Introduced new aspects and gained an edge over him.
Nadal has shored up his weaknesses and made his legendary forehand more potent as a result. Federer gains much less profit attacking Nadals backhand than Nadal gains attacking Rogers backhand. So on average Nadal wins. So Fed is up against it.
Djokovic on the other hand profits from the backhand exchanges against Nadal. Or atleast he did for the last year until the recent clay court season. Nadal seems to have improved once more whilst Novak has been inconsistent.
I'm struggling to determine whether Novak still has his edge against Nadal. The Australian open final was very close in the end. And Novak has been second best since. Notable to me was the long string of wins Novak notched up last year starting with the Davis cup final. That kind of confidence boost cannot be bought. Novak doesn't have that momentum any more.
So this years Wimbledon is very exciting. I expect both Rafa and Novak in the final. Who doesn't. But the result is a big question. Both have won it and both have a major this year. Does Novak have the advantage on grass? I think it's more a mental question than a physical one. It's about decision making and nerve. Djokovic was regularly behind on his winning streak but had the nerve and nous to win. Does he have it this season and has he tested himself enough to figure out the answer?