in my experience we are taught in mainstream culture that getting fit and healthy is hard work and very much the opposite of play. Thankfully I have had different teachers who gave me different lessons and so I grew up playing and relaxing while getting fit and healthy all at the same time. I want to teach others what I have had the fortune to learn so that they can mix fun with fitness just like I do.
This is the story of how I combined getting fit and healthy while having a fantastic time on holiday in Cornwall this year. It is already one of the best sets of memories I have made this year and also one of the most active, playful and fun.
Goals
I have not seen much information about the health value of normal everyday things like exploring local areas and days out. A holiday is often a series of days out punctuated with days exploring the local area and just relaxing and enjoying the sights and sounds of where you are. We all hear that this is good for us but we do not really see much data on this in our daily lives and we certainly do not see these days as an opportunity for growth.
I use each holiday to put into practice all the learning and new habits I have been developing over the year and apply them day after day. This first day shows that despite hours in the car doing nothing but sitting I can still notch up a serious workout because I was excited to explore my new home.
The related series of articles covering my holiday in Weymouth has accompanying fitness statistics from the Fitbit I had at the time. That series demonstrated how my approach to holidays easily achieves fitness goals if that is your aim. I feel that series made the point that holidays can easily help you meet your fitness goals while having fun and this time I would rather focus on the fun instead of statistics and explore other aspects of health to build a more complete picture of health and healing from play.
The first day
The pictures of things we saw, did and enjoyed act as a simple guide to how much good recovery, eating and movement you can get on holiday. Alongside I have described some of the things we do as a family to get the best out of the day.
There are two parts to this article,
Part 1 covers the morning journey to Cornwall and late afternoon with our first experiences of Porthcurno.
Part 2 covers the evening where I left the family in the apartment to sleep and rest while I got to explore more of Porthcurno.
Enjoy 🙂
Part 1: The morning and afternoon
The journey there: 7 hours
The journey to Porthcurno was about 7 hours and we were travelling right to the tip of Cornwall a few miles from Lands end so mummy and I decided to share the driving so we could both manage our energy.
Surprisingly the travel games mummy prepared kept the kids entertained for a good 2-3 hours without an argument in sight. Though being a parent I may have just overlooked the little arguments because you just get used to them don't you :-).
So mummy took the first stretch of driving and all went nicely with the games and roads being pretty clear. The break to change over worked well to stretch our legs because humans are not built to be stagnant for so long. Even a brief period of gentle movement gets some of our juices flowing and makes the whole journey that bit more comfortable.
In the previous article outlining the preparation for the trip I went into more detail about what we did to make the trip more comfortable for us all. The good news is that due to this preparation by the time we arrived at our holiday apartment we were tired but in relatively good spirits considering the 7-hour drive. The mifi internet worked flawlessly so the kids were entertained and the drive was peaceful so we could enjoy the scenery. We knew we were in Cornwall when the roads got progressively narrower until eventually we just had country roads to drive down and the terrain got a lot hillier. Then we knew we were close :-).
Unpacking and inclines
The thing I remember most about Cornwall other than the amazing beaches is the inclines because nowhere is truly flat in Cornwall. Just about any journey involves some kind of incline making it the complete opposite of Milton Keynes (MK) where we live. We have few if any big hills and no mountains in MK so Cornwall was quite a change for us.
Our Weymouth holiday was relatively flat too so this was much more like our visits to Scotland, the lake district and the peak district where everything is either up or down from where you are and never just a simple walk along a flat path.
I say this to highlight the big challenge I found throughout the holiday that I was not prepared for given that I come from such a flat city. The steep inclines mean that everything you do is harder than it would normally be so even unloading the car at the end of the journey meant that we went up and down the equivalent of a flight of stairs twice just to get to the front door from the car and that's being generous.
With a larger family there was more to carry but thankfully more hands to help but the job of unpacking was a lot more physical than it was in Weymouth because that holiday park was flat and the car was just metres from the front door. Here in Porthcurno it is many flights of stairs both up and down and we did this many many times a day which quickly adds up and tires you out if you're not used to it.
This is not a complaint because the hills and cliffs are what make this place so beautiful like all the similar places I mentioned and more. All this will make more sense later on but the point here is that despite all the walking I do during the year I had not prepared enough for this type of hilly terrain. We just do not get this in Milton Keynes and none of our previous holidays had highlighted an issue. It became an issue on this holiday. So I will be considering over time how to adapt my daily life to prepare for hills better because what comes with these hills are epic views and trails so I want more not less of them.
The beach
Our pattern is that I unload the car and do the big heavy lifting like getting stuff from the car into the relevant rooms, while mummy will sort out and do more of the unpacking. This approach best suits our strengths and means that I took the kids down to the beach before our youngest had to go to bed because we were excited to see the place we had been dreaming about for months.
The beach was only five minutes away and by the time we got there, it was early evening on a Saturday so we were surprised to see that people were still arriving. The route there is a little rugged but that is the charm of the place. My first impression was how beautiful and secluded the beach is. It is just stunning and relatively untouched, far from modernity and close to nature.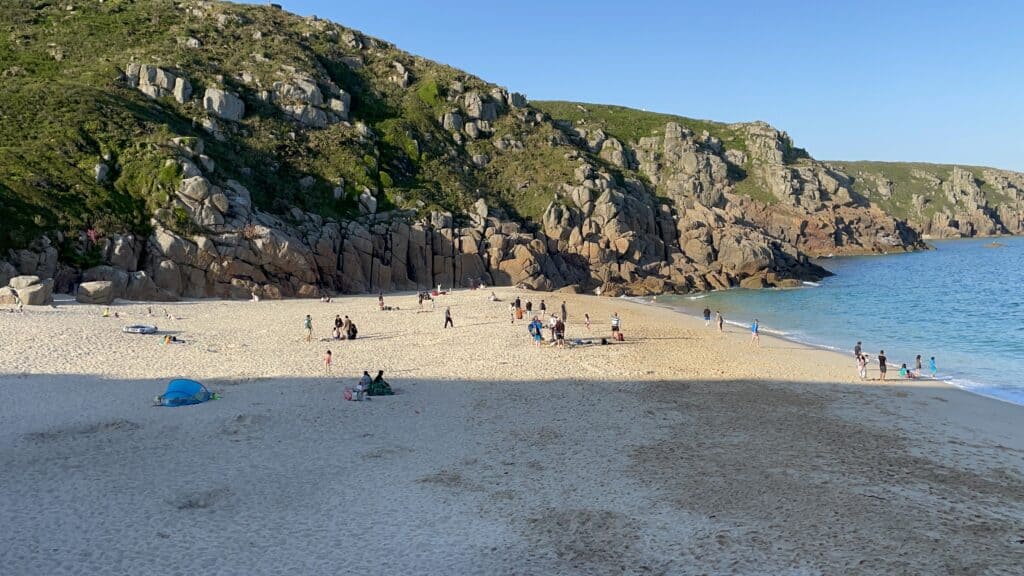 True to form the beach has soft sand and cliffs on either side. It was neither packed nor empty. We arrived at high tide when the sea here is quite intimidating. No one was swimming as the waves are intense and the beach ended in quite a steep drop so we explored the tide pools and dipped our toes in the water letting the waves chase and try to catch us which is the kind of silliness that kids do so naturally.
What I really loved was the rising hills and cliffs on either side which makes the beach feel more intimate and special.
Rocks
My eldest surprised me by going straight to the tide pools when we arrived rather than the beach which must mean that like me he has fond memories of all the rock pools we have found over the years from Whitby last year to Weymouth back in 2015. One of the main reasons we chose Cornwall is the abundance of rockpools in the area along with waterfalls and caves. So while the beaches are amazing it is also the backdrops and wildlife in the rock pools that we have come for.
Here we have our eldest showing his love of geology. He has found a special rock. Just like in the mountains around Loch Ness where he wanted to bring half a mountain home because he found so many beautiful examples of quartz!!! It is no real surprise that with all this exposed rock with all sorts of geological marvels on display, he would find something that interests him.
In the next picture, I want to highlight the posture of my eldest. Just to point out that this is a normal and natural posture that we don't generally find ourselves in in the modern lives we lead. The differences to how we sit these days compared to the past are subtle but this posture is more of a squat and is dictated by the available rocks to sit on. The uniformity of our modern world has reduced the variety of positions we take up during our modern day and we are unfortunately poorer as a result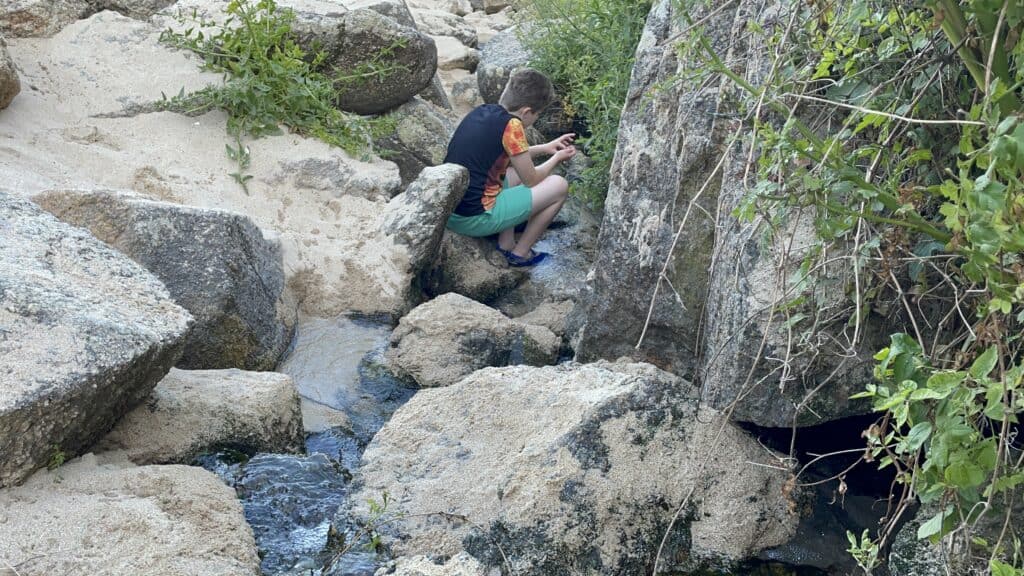 I come from a flat modern city that has left me unprepared for the challenges of a diverse natural landscape. However, this holiday is proving to be beneficial for us all, as we get to explore this environment in its natural form. The variation in landscape requires us to travel and relax using different postures than usual, which gives our bodies the challenge they were built for but rarely receive anymore.
So to some, my boy will look uncomfortable but don't be fooled he is perfectly happy and so is his body. It is getting the nourishment it needs right there exploring the world.
A part of history
The beach of Porthcurno has a fascinating history which I learnt more about later in the trip. All around the beach, you see evidence of prior uses indicating this beach has a long and varied past which adds to its interest,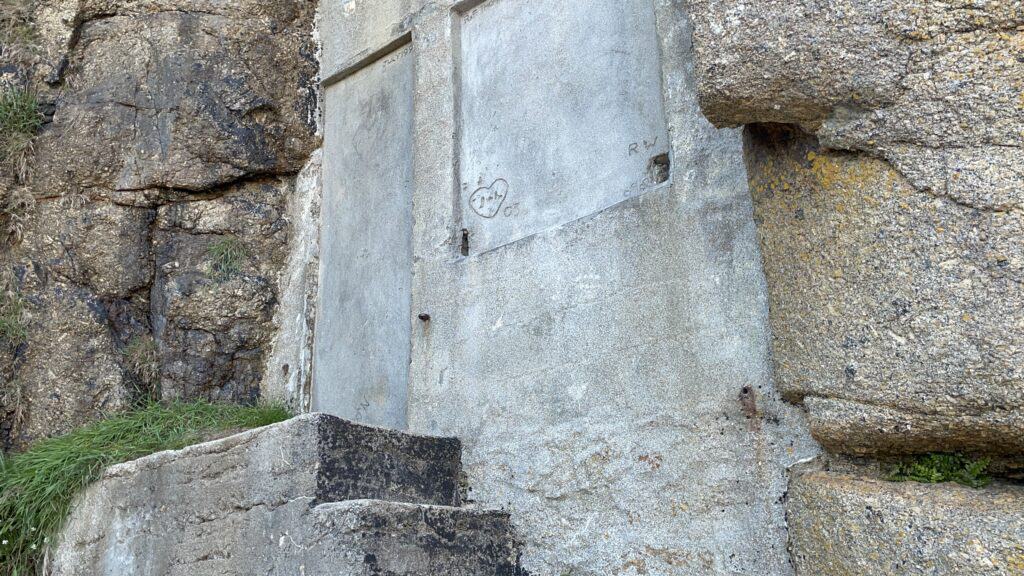 Some of this history is in plain sight so you cannot miss it as you can see in the previous picture showing blocked-up rooms built right into the rocks. We could not help but wonder what they were like before they were filled in and what they were used for. Other clues are the abandoned buildings strewn around the place hinting at a past that I want to learn more about.
Wet feet
For a relatively small beach, there is a lot of variety from lovely sand to tide pools and even old stone bridges along with the previously mentioned rooms carved out of the cliff. So at one point I balanced on a bridge I found leading to a path up the cliffs the kids played tag with the sea below me while the sun danced off the waves.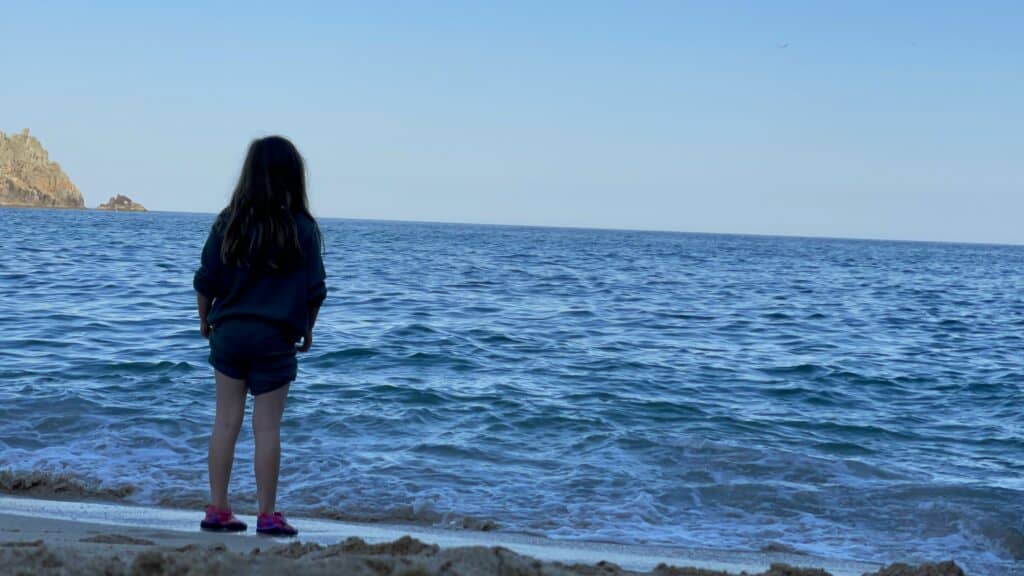 Getting out like this after such a long drive is always a good idea because it restores your energy levels. After any period of travel, you generally feel tired which is natural but confusing because you naturally assume you need to sleep and recharge for the next day. We are built to move and this becomes evident when you get up and get out after a long drive like we did this time. Just like in Weymouth we quickly got our energy back and really enjoyed our first day.
While the kids were playing I was forming my plan of where to explore later in the evening when the youngest is in bed and mummy and the eldest are chilling.
Part 2: The evening
As the walker of the family, I have been waiting for my evening walk all day and being the first walk of the holiday it givse me a sense of the fun and challenges to come.
I checked google maps and picked a route starting on the beach and then heading up the cliffs past, the famous attraction "The Minack Theatre" picking up the coastal path.
So I started out and headed back down to the beach and picked up the coastal path which took me past some disused buildings and some beautiful views of the beach and the flowers that are all around Cornwall.
Each day of the holiday I enjoyed seeing how different the flora and fauna of Cornwall is and on this first walk I glimpsed many of the new flowers and grasses I was to become familiar with over the next few days.
As I walked further the path around the cliff got higher and I could see far along the coast to capture the image feature at the head of this article.
The walk itself took me along the coast from the Minack theatre and west overlooking Porthchapel beach then through to St Levan church and back over the fields to our apartment. I crossed a waterfall and a giant tree that looked just like a pineapple.
Vision habits
Our vision is something we generally take for granted.. It sounds obvious and it kind of is once you think about it but basically all the evidence shows that people who get out and look at far-away things regularly have better vision than those who don't. So you may not realise it but improving and protecting your vision is another important benefit of getting outside and taking a few steps.
I have been wearing glasses for over 35 years and all I have been told is that I need glasses because of my genetics. This has always been a tough pill to swallow and I have missed out on so many things because I wear glasses. Even sights like this are not as clear for me as for others because my glasses do not give me 20/20 vision. I found that I get headaches with stronger glasses so my optician advised I have a weaker prescription.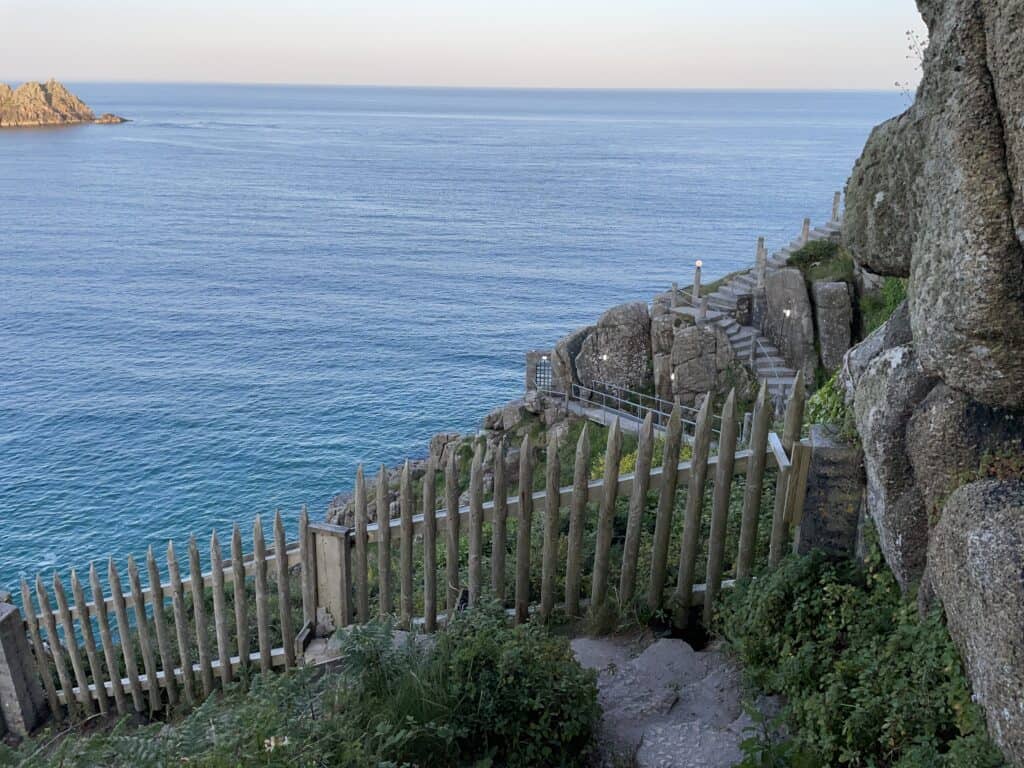 So for decades I have not been able to see what others see even when I stand next to them. I wish that had changed for me but not yet, though it may do soon because in preparation for this trip I have been training my eyes to require less support than they used to through a process explained at endmyopia.
I had been preparing my eyes for this holiday all year, both working on eye improvements but also allowing rest so my eyes could adapt to the challenges I had given them and require less support. This walk was proof that the hard work is paying off because last year I would have needed my old glasses with their strong prescription but now I can see all this with half the prescription. I cannot put into words the emotions I feel even talking about this let alone experiencing it but I have a new passion for looking at the world I can tell you.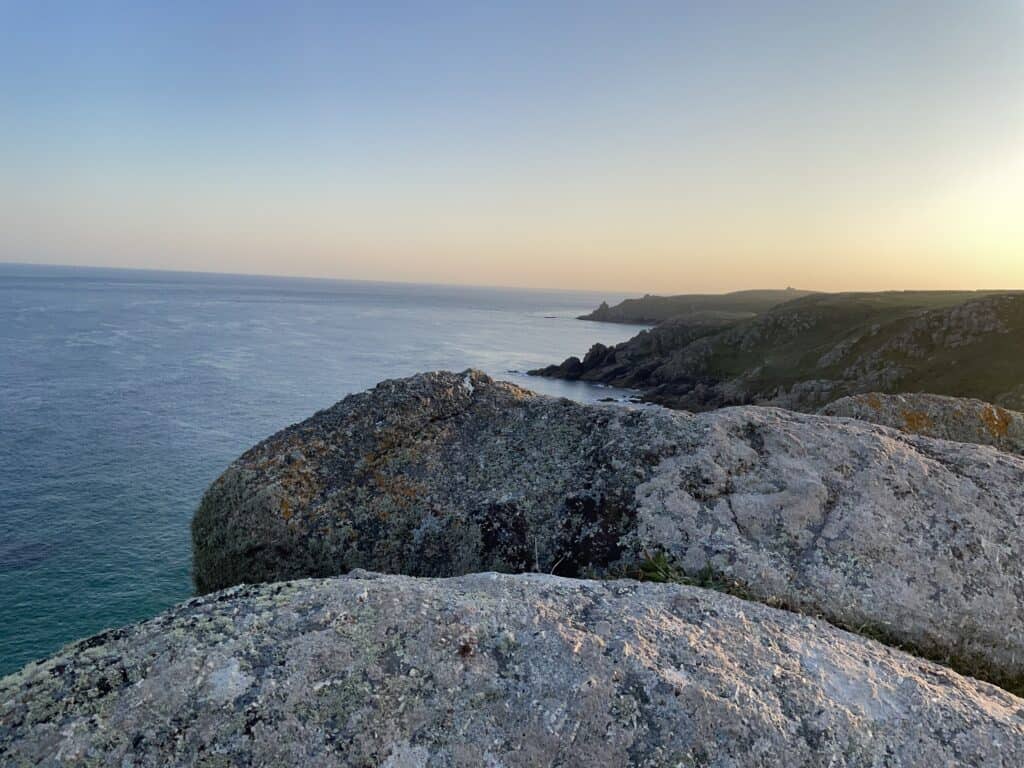 Sightseeing this year has taken on a whole new meaning to me because it is now an opportunity to work on my eyes and improve them. Over the year my prescription has steadily improved so that my glasses provide less support because my eyes are getting stronger.
Changing my habits has been an integral part of the process of fixing my vision and holidays like this get to be the best place to practice this habit to its fullest because you don't want to rush the process of taking in the view. You also get to see things that are a long way away which is really important when you are trying to get your eyes used to seeing well at a distance.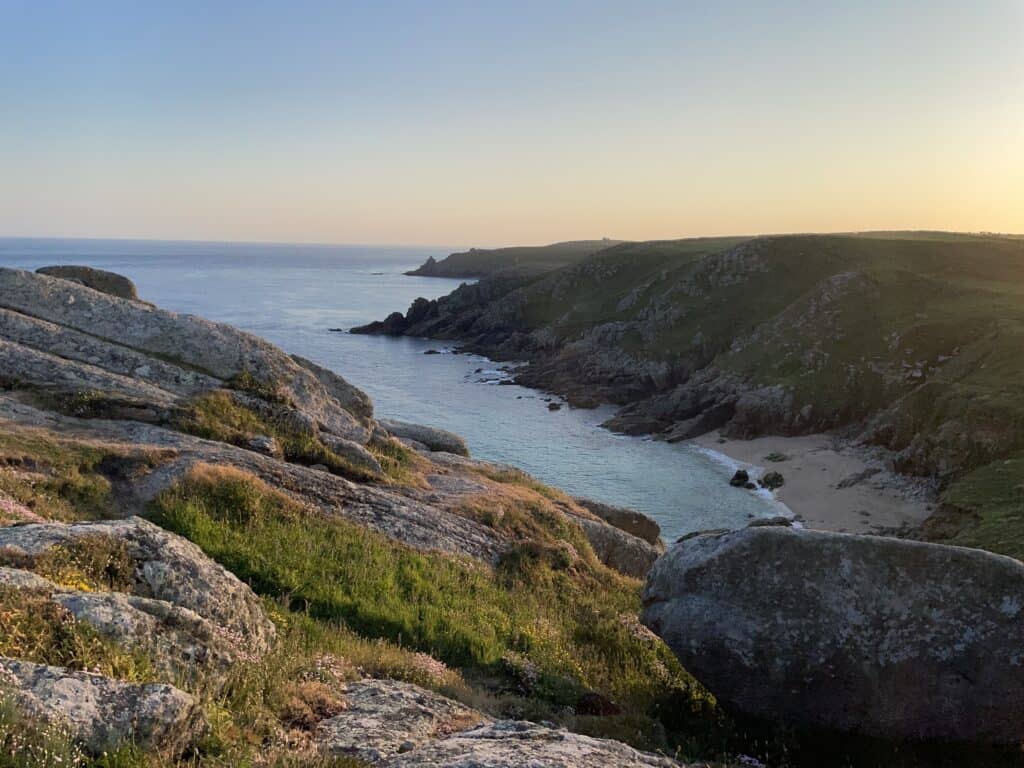 Now I look at everything with renewed passion, paying attention to the correct habits to bring things into focus and I keep being amazed with all the colours and patterns I get to see. I have always loved nature and lovely views but now I take them in so much more than before and really make a study of what I see.
It is at times like these when the views are amazing and I am walking past famous landmarks that I am truly amazed how much I can see with so little support. Over the year I have learnt time and again how adaptable eyes are and how much they want to focus and to be technical to find their homeostatic balance. This just means that they do want to heal but I had bad vision habits and glasses which prevented any healing.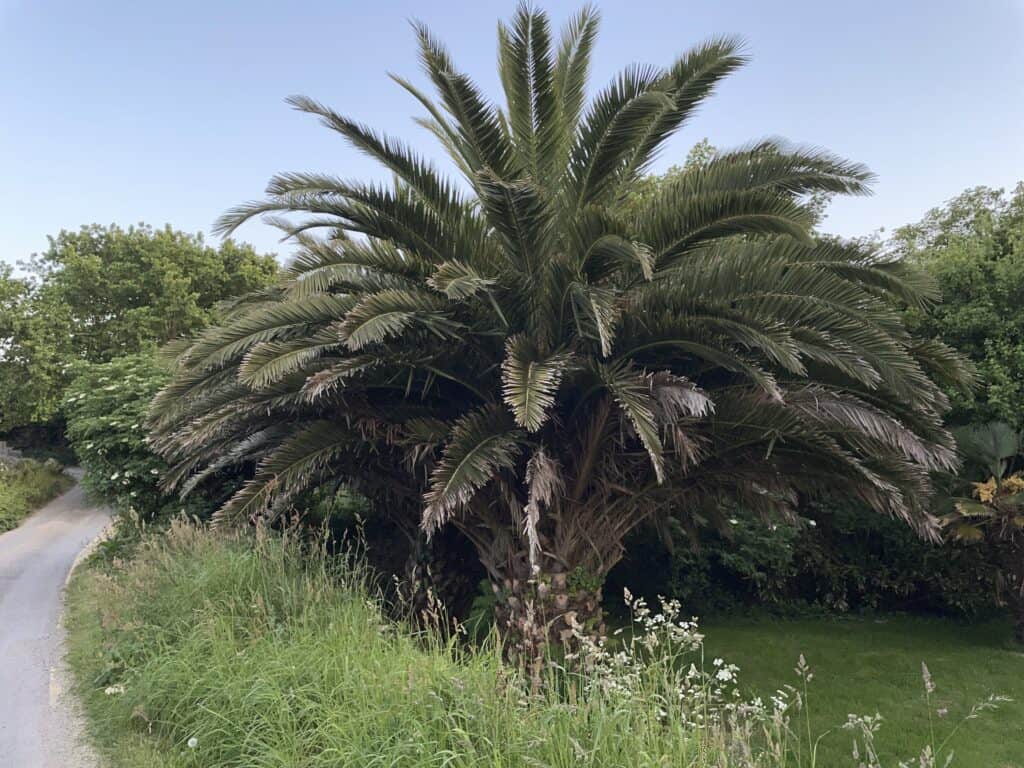 I have also invested in a pair of binoculars which have made the long process of working on my eyes even more fun because they are an excuse to use my eyes without glasses (naked!!!) and just enjoy seeing whatever I can. So on this walk I was just happily whipping out my binoculars(bins) to get a better look and when I really take the time to look I know that I am doing good work on my eyes so it is this lovely win-win situation.
Hills
So far I am finding Porthcurno quite hilly, and rocky like climbing stairs all the way which reminds me of Ben Nevis. The coastal path is very enclosed with tall thorny bushes on either side that block the view so they can feel more like a tight tunnel in places than a path. I am excited by the plants I am seeing because they are so different to what I am used to and there are so many wild birds and animals too.
The good news is that the views when I get them are awesome and I am really excited to explore the beach tomorrow and see more of Porthcurno.
Go play 🙂
So there you have it. The start of our holiday and I've moved, played and enjoyed every minute while at the same time, I have invested heavily in my health. We're all tired and can't wait for tomorrow, we are going to the beach!!! and in the evening I will be exploring the coastal path towards Treen.