Living a dream
If you were living a life-long dream, wouldn't it be great if all the mini adventures and challenges you face in life had prepared you for it and made you able to to get the most out of it?
That's what happened in May when I visited the French Open, also known as Roland Garros, in Paris. This was an epic trip for many reasons including:
Completed in one day (a 700 mile round trip crossing the English Channel)
12 hours travel time
Began 2am one day, ending 2am the next
We had to carry everything we needed
We probably logged 10,000-15,000 steps when we were there
We sat, stood and walked for prolonged periods
Any one of these things can seem daunting but all in one trip plus all the other things that go with travelling and visiting places this becomes a real feat of endurance.
The good news is that during the last six months I have been sharing with you how much I like to move around and this led to planning for epic adventures like this.
Each mini excursion has involved smaller amounts of the challenges I listed like travelling, walking, standing and sitting for long periods and carrying everything I need with me. Which meant that with all this ground work under my belt I felt a lot more confident and prepared than I ever have for such a trip. So I was able to enjoy it so much more than similar trips I have made.
The day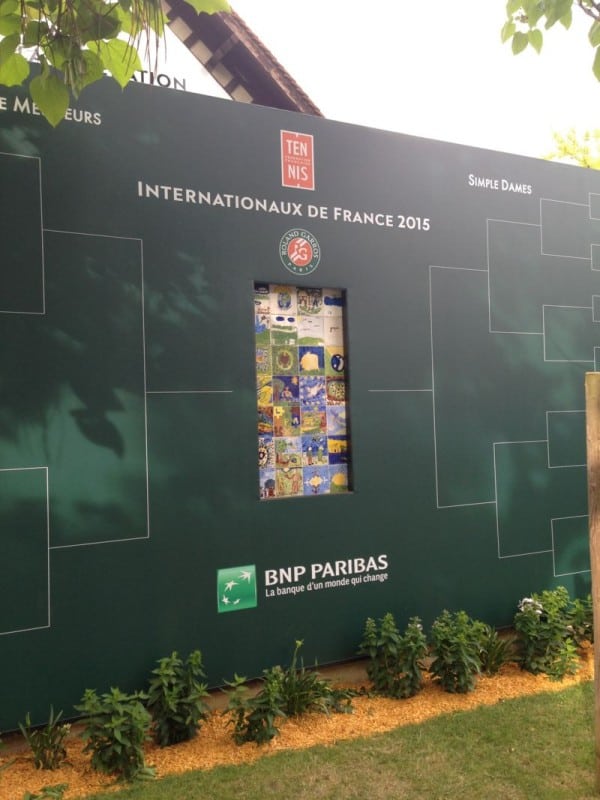 I went with a tennis buddy who had visited before making things a little easier and giving me that bit more confidence in the plan.
We had seats booked on the Suzanne Lenglen court (Their second grandstand court) so we had somewhere to sit when we needed but I always enjoy a wander for much of the day because that's how you get really close to the action. That's what I do when I visit Wimbledon (I think I took around 25,000 steps last time I visited the big W) and that's what I did this time.
Having seen the French Open many times on TV I took a few shots of the Suzanne Lenglen court like this one for posterity:
It helps that Roland Garros is the smallest slam, about half the size of Wimbledon so you can walk end to end in around 10 minutes so you really don't have that far to go. The food there, at least what I had, was really good because I was expecting very standard fare but even the cheaper chicken sub roll I had seemed to have a subtle mustard mayo and the chicken was moist and nicely flavoured. Simple joys I know but I was expecting better food in the French open than the British and I got it without paying much either.
Memories
The day was about having experiences and creating memories and a grand slam is about seeing the worlds best players on their quest for greatness. We saw a lot of amazing players but only a few that most people actually recognise so here are the players we got to watch that an average person has heard of:
Petra Kvitova: Wimbledon champion
I have seen Kvitova before at Wimbledon in the semi-finals before she won her first grand slam so it was fun to see how she adapted to grass. This time she was playing the Spanish clay court specialist Silvia Soler Espinosa
Serena Williams: World number one
Next we saw Serena Williams the world number one in addition to being a 19 time world champion. I had never seen her before so this was a real treat. Given that she went on to win the title in the end I kept up my streak of having seen the eventual winner play every time I've visited a slam!!!
Novak Djokovic: World number one
Followed by Novak Djokovic who was completely imperious. Comfortably beating Gilles Muller with his exceptional court craft. I saw him play last year at Wimbledon and he was as amazing this year. It's very clear why he is the current world number one by a long way.
Getting closer to the action
As amazing as it is to see Novak in the flesh I find the 5 set nature of mens tennis a bit monotonous. Only the very best matches can hold my attention and this was not one of them. I also find that the show courts give you much the same view as you get on TV because you are generally quite far back. I much prefer the more intimate spectacles of the side and practice courts.
Though Roland Garros doesn't have practice courts it was the first time I had visited so everything was new and special. I like to book a seat in a court in advance simply to have somewhere to sit, to avoid queues and of course to watch the amazing players you don't get on the side courts like Serena, Petra and Novak.
Though if I only stayed in my allocated seat on Lenglen then I would never have witnessed these treats:
Court side between a women's doubles match between Mandy Minella, Mona Bartel & Magdalena Rybarikova and Alexandra Dulgehru.
It is only when you get this close that you can really appreciate what you are seeing. The pace and power combined with superb movement as the ball whistles past you time after time.
You are so close you can hear everything and really feel part of the match.
Sloane Stevens
Later I really got lucky and watched Sloane Stephens (who beat Serena Williams a couple of years ago at the Australian open) versus Heather Watson our top female player.
I've been a fan of both players for a while. Sloane impresses me because her game is, in my view, good enough to reach the very top of women's tennis. Particularly her movement and her mind because her grace on court is rare. She is good at not looking rushed even against the toughest opponents.
Heather Watson
Heather is known as the smiler and that's probably the biggest reason I like her. A more chipper player in interviews is hard to find, but on court she's a battler who scampers after anything. I don't seem to be a good omen for her though because I don't think I have ever seen her win. She had been on a great winning streak both on clay and against Sloane before this match but both ended right here.
For me to see the top British woman play is always special and to get this close is just amazing.
Around the grounds
Another favourite pass time for me at any event is to get a feel for the grounds and get to know all the places you don't see on TV. Those are where the real memories are made because you won't find them repeated on the goggle box when you get home.
The practice courts at Wimbledon are an example because it's much more intimate and special than seeing the players on court but you get only the slightest glimpse of this on tv.
So here is a small collection of some souvenir photos from around the grounds:
The Draw
Next to the entrance is this wall showing the current draws. It's a simple memento but I like how they dress it up with greenery.
Busy
This shot of court one is pretty typical. There were plenty of people milling around and large screen TV's showing the on court action.
Greenery
I love the outdoor country feel of Wimbledon even though there is so much concrete and the same can be said of Roland Garros. Even though the courts are basically dry mud many of the buildings are dressed up with beautiful ivy and plants. I like these little touches that remind me of the roots of tennis as an outdoor country pursuit.
Play Area
We also found the indoor games and innovation area. There were things like:
Serve speed test
An indoor tennis game
Virtual reality tours of Roland Garros
Getting there
The journey was a lot simpler than I'm used to in getting to Paris:
We drove from Milton Keynes to St Pancras, leaving the car in the short stay car park
Picked up the Eurostar which took us all the way to Paris Gare du Nord station.
From there we were planning to bike to Roland Garros where the French Open is held (my friend did this last year) but we opted for the lazier metro route this time using google maps directions

Take garde du norde RER B to Saint Michel
Walk to Cluny La-Sorbonne (5 mins) we didn't actually leave the station just changed from RER B to M10 line. Keep your metro ticket it works on both.
Take line 10 to Porte d'Autueil
Follow signs to roland garros (5 mins)

Getting home was basically the reverse
The train home was around 9pm French time so we left Roland Garros around 7pm, by metro and then we had the long trek back to Blighty and our beds.
It's tiring me out just thinking about it but now you might start to see the value of all the work I had been doing beforehand. Each trip out has been a chance to prepare for the rigours of this much fun. I'll run through some of the adventures we've had just to remind you.
The preparation
My preparation is built into lots of tiny steps that deal with 3 aspects of life
Real life adventures
These workouts/adventures are much more practical than going to the gym or for a run because they involve real life and overcoming real, not artificial, challenges. We spend our lives thinking workouts are defined sets of activities with rigid boundaries when in fact they are supposed to be built naturally into any day you live.
Just like proper nutrition comes from eating a wide variety of foods and not from popping vitamin pills, good movement and good workouts require a varied diet of challenges including challenges of:
nutrition
movement
and recovery
What's your epic adventure?
So that was a life-long dream, how I prepared for it and how you can use your life to prepare to live your own dreams. Now I have done it I know I can do it again and through the whole process I have found even more ways to get healthy by being happy.
So what are you waiting for?
What are your life-long dreams?
and why aren't you living them?
Get in touch if you want to know how achieving you dreams will make you healthier than ever.
It's easy:
sign up to my newsletter
or get in touch through social media
or email.
Thanks a lot for listening, I hope you have a great day and I want to know what your epic adventure would be. Tell me in the comments below I might just feature it in a future article.
Colin
[ps]