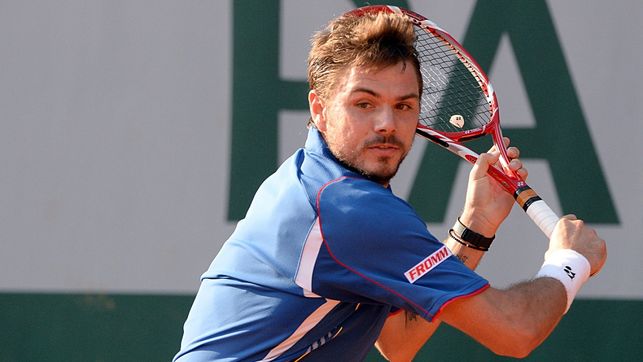 Coach: Magnus Norman joined last april after the Australian Open. Prior to this he was coached from age eight until June 2010 by Dimitri Zavialoff then Peter Lundgren (former coach of Marat Safin and Federer) until September 2011
Magnus Norman won one ATP World Tour Masters 1000 title at the 2000 Internazionali BNL d'Italia in Rome, a few weeks before he reached the Roland Garros final (losing to Gustavo Kuerten). The Swede had a 12-6 record in tour-level singles finals. In his post-playing career, Norman coached Robin Soderling for two years. A similar big hitting player to Stan who also defeated Nadal.
Magnus and Roger Federers long time coach Severin Luthi were consistently seen together at the Australian Open. I expect they have a mutual interest in helping each other. Luthi has experience of beating all tour players including Nadal on many occasion and Magnus has experience beating Nadal in the French open with an attacking player.
The recent results for Stan against Nadal prove the Swiss players have the ability to beat anyone on their day.
What Magnus brings to Wawrinka appears to be a lot. Stan is quite a complete player. HIs main weakness is his mind and belief. Magnus seems to build confidence very well. Stan is currently not doubting himself like he used to. At the same time it seems this comes from clear strategy of how to use Stans strengths to overwhelm opponents. Built on experience from Magnus' own game and that of coaching Robin Soderling who had similar strengths to Stan.
Magnus's players have twice beaten Nadal in a slam
Mangnus Norman: The genius who masterminded Wawrinkas win highlights Magnus' impact on his previous charge Soderling
Almost immediately after linking up with Norman, Soderling's career turned around. He started to reach finals again, won a few minor titles and – within the year – found himself in the French Open final after becoming the first man in 31 matches to beat Rafael Nadal at Roland Garros.
Yet I have heard it mentioned that this coach seems to have a fantastic, almost legendary record against Nadal and Uncle Toni in slam finals. Of course he will have had many losses but he has recorded two crucial wins against Nadal with two different players. One in Nadals home slam and Mecca Roland Garros. The other in a slam final, where Nadal has a record similar to his fellow legend Roger. He doesn't lose to anyone outside the top 3. He did Melbourne for the first time ever!!! Norman was behind that loss.
Wawrinka – like Soderling and arguably Johansson before him – has become a completely different player, one maximising his ability under pressure instead of crumbling when it matters. Last season he finished the year as a top-10 player for the first time, and his Aussie Open triumph has pushed him into the top three – all at the age of 28, approaching veteran status in tennis terms.
Norman seems to specialise in power players and taking them from good to great. I'm hoping thay in time we see more depth by bringing this excellence to a wider range of players. For now it's just exciting to see this current relationship unfold.
Related Articles